Category: Form I-9
Justifacts Answers Your Frequently Asked Questions
Created on 09 May 2013
6 Comments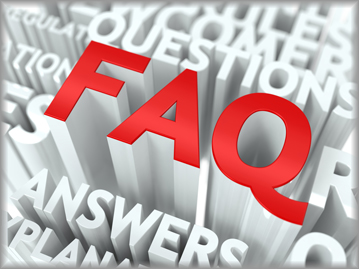 The staff at Justifacts has been so impressed with the great questions that our clients and visitors to our site come up with, that we decided it was time for a Frequently Asked Questions post. For this blog, we didn't want to just make up our own questions and answer them, but rather answer the real questions that we are most often asked. In order to do this, we delved deep into our website analytics and pulled a list of the most common questions visitors are asking when searching our site. We hope that you find the questions useful and our answers informative.
Subscribe to our email list to be alerted of our next blog post:
Q: Which States have a criminal state repository?
A: Most states have a central repository they use to track known criminals. Typically these repositories are run by the State Police or the Department of Public Safety in a particular state and each has its own requirements for the availability of records as well as what type of information is released. In general, statewide criminal repositories obtain records from the counties and are dependent upon the courts in each county to forward case information in a timely and complete manner. Due to this reliance upon the counties to forward information, state repository records may not be complete or accurate.
Q: How long does a background check take with Justifacts?
A: Justifacts' normal turnaround time to process background searches is 24-72 hours.
Q: What should an applicant expect from a Justifacts background check?
A: An applicant can rest assured that Justifacts will provide a professional, thorough background check. At Justifacts we are diligent in protecting your privacy and will only share information with your employer. A verification specialist may have to contact you if additional information is needed to complete your background check. If that is the case, you count on us to work with you in a helpful and courteous manner.
Q: Can Justifacts verify a high school diploma?
A: Yes Justifacts can verify a high school diploma. Our degree verification process includes the authentication of high school diplomas, GED's, trade certificates, and post-secondary degrees. Justifacts confirms the candidate's dates of attendance and the type of degree that was earned.
Q: Can you randomly have employees fill out a new I-9 Form?
A: No, the Form I-9 is to be completed by all new employees within three days of hire date. There are some occasions where a new I-9 form can be completed, including but not limited to, rehire with the same employer and significant change in personal information.
Q: Does the State of Pennsylvania require E-Verify?
A: The State of Pennsylvania only requires public works state contractors and subcontractors to enroll and use E-Verify. For more information on Pennsylvania E-Verify laws view our blog post
Understanding E-Verify Laws and Their Affect On Pennsylvania Businesses
.
Q; Does the state of West Virginia require E-Verify?
A: Currently, the State of West Virginia does not have a state-wide E-Verify requirement. The states that do have some form of E-Verify requirement are Alabama, Arizona, Colorado, Florida, Georgia, Idaho, Illinois, Louisiana, Minnesota, Missouri, Nebraska, North Carolina, Oklahoma, Pennsylvania, Rhode Island, South Carolina, Tennessee, Utah, and Virginia.
Q: Can you provide an example of an employment background check from Justifacts?
A: Justifacts does provide the opportunity to view a sample report. Click here to view our
Sample Report
.
Q: How far back do Justifacts background checks go?
A: A Justifacts' background check typically goes back five to seven years.
Q: Why am I getting a call from Justifacts Credential Verification?
A: Justifacts is a pre-employment background screening service that provides accurate, cost effective, comprehensive background screening services to corporations, non profits, healthcare providers, and educational institutions. There are several reasons that an individual would potentially receive a phone call from Justifacts. One possible reason may be that a work colleague has listed you as a professional reference. We certainly appreciate you returning our phone calls as quickly as possible. We understand your time is important and you can count on our verification specialists to conduct all interviews in a professional, efficient and respectful manner.
Q: What are the benefits and costs of a unified court record search?
A: The implementation of unified court systems has presented an opportunity for Justifacts to provide a comprehensive, statewide criminal record search in a timely, cost-effective manner. This search contains the most up to date criminal information available and can be considered the best option for a court record search in those states utilizing a unified system. If you are interested in more information about unified court record searches and would like pricing information, please contact us.
Still have questions? Feel free to be part of our Frequently Asked Questions by commenting on this blog or contacting a salesperson. We love hearing from you!
New Form I-9 Released from the USCIS
Created on 08 March 2013
0 Comments
Summary
The U.S. Citizenship and Immigration Services (USCIS) today published a revised Employment Eligibility Verification
Form I-9
. All employers are required to complete a Form I-9 for each employee hired in the United States.
Subscribe to our email list to be alerted of our next blog post:
Improvements to Form I-9 include new fields, reformatting to reduce errors, and clearer instructions to both employees and employers. The Department of Homeland Security has published a
Notice
in the Federal Register informing employers of the new Form I-9.
What it means for employers
Effective 03/08/13 employers:
Should begin using the newly revised Form I-9 (Rev. 03/08/13)N for all new hires and reverifications.
May continue to use previously accepted revisions (Rev.02/02/09)N and (Rev. 08/07/09) Y until May 7, 2013.
Will have a 60-day grace period, until May 7, 2013 to comply by using the new form.
After May 7, 2013, employers must only use Form I-9 (Rev. 03/08/13)N.
Should not complete a new Form I-9 for current employees if a properly completed Form I-9 is already on file.
A Spanish version of Form I-9 (Rev. 03/08/13)N is available on the USCIS website for use in Puerto Rico only. Spanish-speaking employers and employees in the 50 states, Washington, D.C., and other U.S. territories may use the Spanish version for reference, but must complete the English version of the form.
Justifacts is here to help
The revised two-page Form I-9 documents that are required by all U.S. employers can be found at the following links:
Learn how to go paperless
Justifacts has developed a paperless, electronic I-9 system that creates and stores the Form I-9. As an Employer Agent for E-verify, Justifacts processes E-Verify requests for registered employers. When used in conjunction with each other, the electronic I-9 system and E-Verify agent access allows employers a fast, accurate method for verifying the work eligibility of all newly hired employees.
Find more information on our paperless Form I-9 solutions:
Electronic I-9 Verification System